Back to staff directory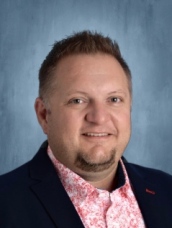 Principal
Hello and Welcome to St. Mary's School.

If you're new to our school community, welcome! You've made a great choice. If you are a returning student and family, thank you for making St. Mary's a great school!

I am honored to be the Principal of this exceptional school. I had the opportunity to attend St. Mary's School as a student and it is a real thrill to have the opportunity to help lead our school. I am very proud of the excellent programming options we have to offer at our school and have been so impressed during my first few months with the all members of our school staff and the students who make St. Mary's exciting everyday! I also teach grade 7 Math and help out with our school football team! In my spare time I enjoy golfing, hanging out with my wife and daughter, and kayaking on the river during the summer.

I look forward to meeting everyone this school year!